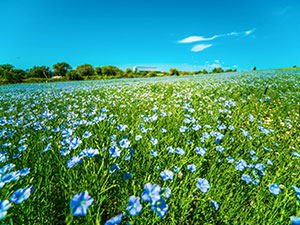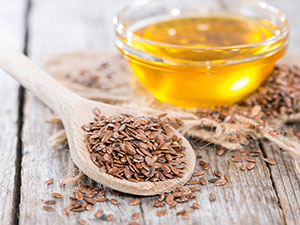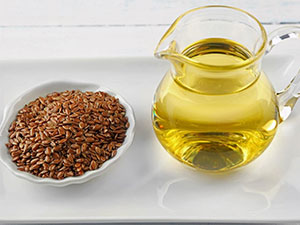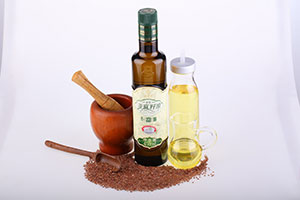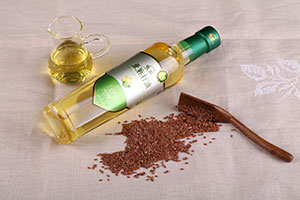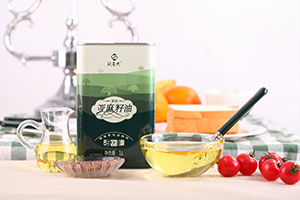 Flaxseed oil, also is known as linseed oil, is a clear to yellowish oil obtained from the seeds of the flax plant (Linum usitatissimum, Linaceae). The oil is obtained by cold pressing, which is extracted by using pressure and not heat, thereby creating a flaxseed oil in its purist form. Flaxseed oil from Xinqidian is oil, which is free of artificial additives, residuals of solvents or synthetic contaminants.
Efficacy and Nutritional components
flaxseed oil contains both omega-3 and omega-6 fatty acids,which are needed for health and skin benefits. It contains the main biol ogical activity ingredient fatty acid alpha-linolenic acid (ALA), which the body converts into eicosapentaenoic acid (EPA) and docosahexaenoic acid (DHA). ALA accounts for at least 50% of oil, ALA is to defend the lives of human brain evolution of the core material. It is the key ingredient in organizing human cell. α-linolenic acid and its derivatives (DHA,EPA) can prevent the
interaction between platelet and arterial wall, protecting eyesight, reducing the formation of arterial thrombus, lowering blood lipid, anti-aging, anti-allergic, It is effective against coronary heart disease and atherosclerosis. It can also inhibit the occurrence of cancer transfer.
Marketing Applications
Xinqidian offers flaxseed oil for high quality edible oil, nutritional supplements, natural cosmetics, pharmaceutical Intermediates, food additive and health-care food.
Certifications
ISO9001, ISO22000 (HACCP), ECO, NOP, OFDC, KOSHER, CQC.

Package: 190KG/200L HPET drum with export standard, purged with nitrogen, or as customers' requirements.
Storage: The oil should be stored at a cool and dry place, protected from light
Shelf life: Two years if unopened in the original package. Once opened, the oil should be purged with nitrogen and used within six months
| | |
| --- | --- |
| Specifications | ALA56% |
| BOTANICAL NAME | Linu m u sita tissi mum |
| | Linn. |
| PART OF PLANT USED | Seed |
| ORIGIN | China |
| PRODUCT NO. | XQD-O-FSO50 |
| PHYSICAL/CHEMICAL | SPECIFICATIONS |
| APPEARANCE | A clear bright yellow oil |
| ACID VALUE, KOH mg /g | ≤2.0 |
| PEROXIDE VALUE, meq/kg | ≤10.0 |
| SAPONIFICATION VALUE,KOH mg /g | 186.0-196.0 |
| UNSAPONIFIABLE MATTER, % | ≤2.0 |
| MOISTURE AND VOLATILES, % | ≤0.20 |
| GARDNER COLOR | ≤5 |
| COLD TEST | Clear after 5.5 hours at 0° C |
| RESIDUAL SOLVENT, mg/kg | Negative |
| LEAD ppm | ≤ 0.05 |
| ARSENIC ppm | ≤ 0.1 |
| CADMIUM ppm | ≤ 0.01 |
| MERCURY ppm | ≤ 0.005 |
| FATTY ACID COMPOSITION | |
| C16:0 PLALMITIC % | 3.0-8.0 |
| C18:0 STEARIC % | 2.0-8.0 |
| C18:1 OLEIC % | 15.0-24.0 |
| C18:2 LINOLEIC % | 12.0-20.0 |
| C18:3 α-LINOLENIC % | ≥ 56 |
| OTHER % | 0-3.0 |