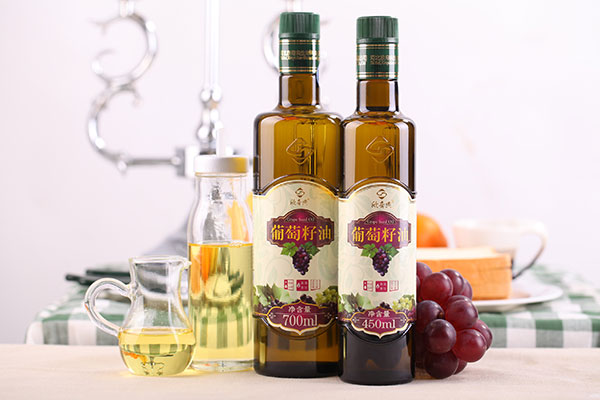 grape seed oil is a vegetable oil extracted from the seeds of grapes (Vitis vinifera).which has been laude d for their health benefits for at least six centuries. It is light yellowish or green to light yellow liquid. The oil is obtained by cold pressing. There are two very important elements in grape seed oil, linoleic acid and OPC.
Efficacy and Nutritional components
The nutritional components in grape seed oil provides a variety of healthy benefits, one of the most important being their ability to slow down and reverse free radical damage and reduce the risk of disease, especially heart disease and slow skin aging. grape seed oil is a powerful antioxidant, 50 times more potent than Vitamin E and 20 times more effective than Vitamin C in destroying these free radicals, harmful molecules that roam the body and damage cells. Studies show that certain components in grape see d oil can also help protect the body from sun damage, improve vision, flexibility in joints, arteries and body tissue, i mprove blood circulation and reduce allergic and asthmatic symptoms by inhibiting the formation of histamines, simultaneity improve high-density lipoprotein cholesterol.

Marketing Applications
Xinqidian offers grape seed oils for high quality edible oil, nutritious supplements, natural cosmetics, pharmaceutical Intermediates, food additive and health-care food.
Certifications
ISO9001, ISO22000 (HACCP), ECO, NOP, OFDC, CQC.

| | |
| --- | --- |
| INSOLUBLE IMPURITY,(m/m): | ≤ 0.05 |
| UNSAPONIFIABLE MATTER | ≤ 2.0 |
| MOISTURE AND VOLATILES | ≤ 0.20 |
| GARDNER COLOR | ≤ 5 |
| COLD TEST | Clear after 5.5 hours at 0°C |
| RESIDUAL SOLVENT, mg/kg: | Negative |
| LEAD ppm | ≤ 0.05 |
| ARSENIC ppm | ≤ 0.1 |
| CADMIUM ppm | ≤ 0.01 |
| MERCURY ppm | ≤ 0.005 |
| FATTY ACID COMPOSITION | |
| C:14:0 MYRISTIC | 0-0.3 |
| C:16:0 PALMITIC | 5.5-11.0 |
| C:18:0 STEARIC | 3.0-6.5 |
| C:18:1 OLEICO | 12.0-28.0 |
| C:18:2 LINOLEIC | 58.0-78.0 |
| OTHERS | 0-5.0 |