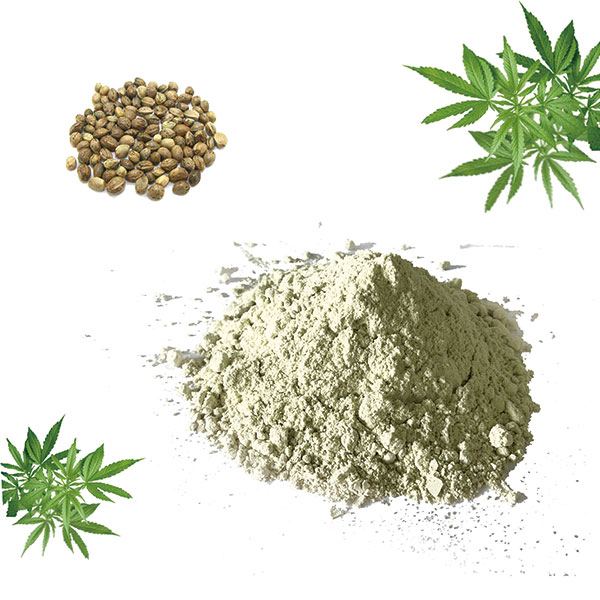 Nutrition:
hemp seeds are one of nature's best sources for plant-based protein. It can be a perfect choice to increase your protein intake from a natural and vegan source.
Hemp seed protein is one of perfect Vegan/Vegetarian Protein Powders.
Hemp protein powder is not only a protein powerhouse, but it's also inherently loaded with more healthy omega fatty acids and fiber than many other common protein powders. It doesn't stop there — hemp has also been shown to improve fatigue and have positive effects on the immune system — and these are just some of the benefits of hemp protein powder.
Hemp protein powder is made from hemp seeds, which provide a solid nutritional boost similar to flaxseeds. It packs a health punch of dietary fiber, chlorophyll, minerals and antioxidants without any saturated fat, cholesterol, sodium or sugar.
Hemp protein powder is easy on the taste buds with a faintly nutty flavor.
Main function and efficacy:
Boosts metabolism and increase your fat-burning potential Cleanses the Colon
Boosts the Immune System
Reduces Sugar Cravings
Kills parasites in the human body
Boosts metabolism and increase your fat-burning potential
Application:
1. To make crisp bakeries;
2. To make Protein beverage;
3. An ingredient for milk product;
4. Pharmaceutical health care products, beverage additive, etc
Specification
| | |
| --- | --- |
| Origin | China |
| Product composition |   |
| Water content (%) | ≤10.0 |
| Ash content (Dry basis) (%) | ≤14.0 |
| Crude protein (Dry basis) (%) | ≥70.0 |
| Fats content (Dry basis) (%) | ≤3.0 |
| Dietary fiber (Dry basis) (%) | ≤10.0 |
| Total arsenic (As) (mg/kg) | ≤0.5 |
| Lead (Pb) (mg/kg) | ≤0.8 |
| Residual solvent (mg/kg) | ≤500 |
| Microbiological indicator |   |
| total plate count (CFU/g) | ≤10000 |
| Salmonella (CFU/g) | Negative |
| Staphylococcus Aureus (CFU/g) | Negative |
| Coli group (CFU/g) | ≤100 |
| Yeasts and Molds (CFU/g) | ≤50 |